My favorite Incest Films
Posted on:
January 14, 2007
/
I just finished watching Old Boy, which has now become my favorite incest themed film of all time.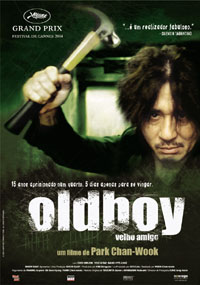 In this sordid tale, a man is mysteriously kidnapped and imprisoned for 15 years. Upon being released, he hunts down his captors and tries to figure out the exact reason for why he was targeted in the first place.  In the process, he ends up being hypnotized and (without realizing it) winds up in a sexual relationship with his estranged daughter, whom he hasn't seen since she was a toddler. The ramifications of this ends in several awesome scenes such as him cutting his own tongue out.
This movie was by far the most disturbing, well shot, captivating thriller I have seen in some time.
Disclaimer: I certainly don't advocate incest or abuse of any sort. But it's not my fault that many well made films have incest themes so, as a special treat to creep out my family/friends/you, here are my top ten favorite incest films so far:
Old Boy
The Cement Garden - These kids lose both their parents in a really short period of time. They bury their mother in the basement, covering her with cement. Living with this secret drives the older brother and sister mad, and they end up doing each other. The youngest brother starts dressing like a girl as well. This film was written/directed by Andrew Birkin, clearly a sick man, who also wrote the screenplay for that freaky movie Perfume: A Story of Murder, that I blogged about recently.
 Sister, My Sister - Two maids, who are also sisters, go crazy and kill their employers… but not before they manage to have a twisted sexual relationship.
Sitcom – This french film is a crack attack. The mom sleeps with her gay son to try to turn him straight, and the father turns into a giant rat and kills his family.
Flowers in the Attic – Based on the awesomely bad novel by the awesomely bad writer VC Andrews, a brother and sister are locked in an attic so their evil mother can have a relationship with some rich guy. The siblings are so lonely and warped that they start doing each other.
The Piano Teacher – This movie was so deranged that halfway into it I started having a panic attack.
Antonia's Line – The theme of this movie isn't technically incest, however I love this movie to death and in it there is a subplot of a young man who is raping his mentally retarded sister. Something bad happens to him in the end, and I applauded enthusiastically.
Bleeders – Incest/B Movie Horror! The perfect combo. I love stories where the incest has degraded humanity to the point where these interloped freaks are living underground and stealing corpses to feed on.
The House of Yes – Parker Posey! Having sex with her on screen brother! WoOt! I actually shut this movie off halfway into it the first time I saw it. But, it eventually grew on me.
(which I have not seen, but have heard is quite good. And I love Jodie Foster.)
More….
The Celebration – The only Dogme 95 incest themed film that I know of. I love this story and aspire to make a film as powerful as this someday.
Chinatown (hello)
 And for book worms in search for good incest themed books, I love:
House of the Spirits
One Hundred Years of Solitude
24 comments